Best Spoken English Course in Lahore, Pakistan
IDEO College in Lahore offers a comprehensive spoken English course designed to enhance students' English language skills and improve their ability to communicate effectively in spoken English. This course is suitable for individuals at all levels, from beginners to advanced learners. IDEO College provides a supportive learning environment with experienced instructors who specialize in English language teaching. The course incorporates interactive teaching methods, multimedia resources, and practical exercises to maximize students' learning outcomes.
Saturday and Sunday
6:00 pm to 08:00 pm
Duration: 2 months
Rs: 15,000/person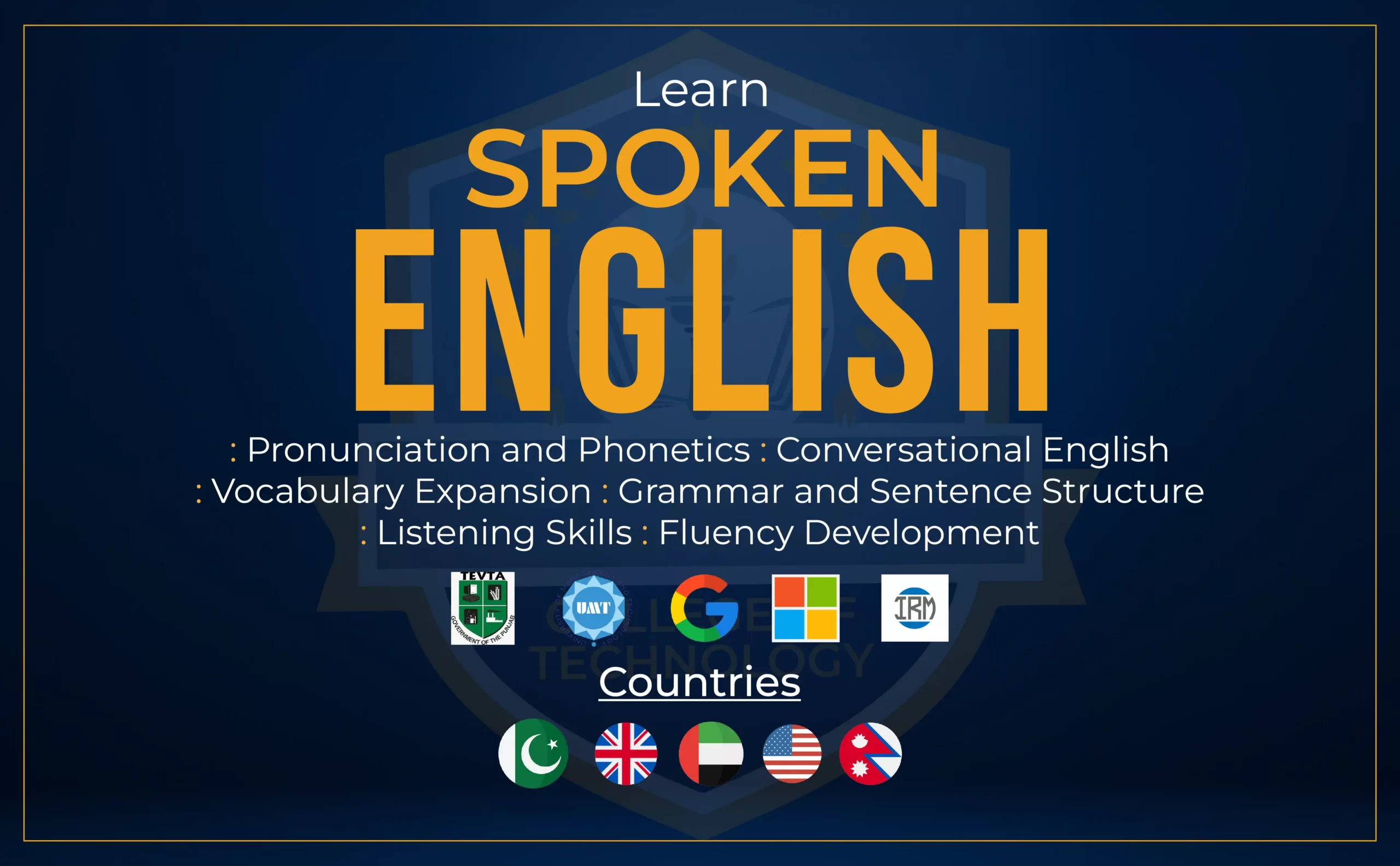 What's included in the Best Spoken English Course in Lahore, Pakistan

 

| IDEO College
Introduction of Best Spoken English Course in Lahore:
The English language is a widely spoken language all over the world. Earth has about 8.0 billion people living on it out of which 1.5 billion people speak the English language which makes up 20% of the world's population. In 104 countries English is spoken as a first language and in others as a second language which makes English the fastest-growing business language. In Pakistan,
English can help you get a better job, stand out in your society, and communicate effectively all around the globe. The spoken English Course in Lahore helps you to counter your major English problems in this course(spoken English course in Ideo College Lahore).
Why this Course (Spoken English Course in Lahore) | Ideo College
As 1.5 billion people speak English which is 20% of the world population and still growing. (Babbel)

English is also the fastest-growing business language in the world, it helps in growing your career. (Medium.com)

About 49% of Pakistan's population speaks English as a second language
Scope of Spoken English Course
As 49% of the population speaks English as a second language business owners can have effective communication, students can excel in academics, receive assistance from MyBestWriting's professional writers, and perform better in professional life. whereas professionals can communicate better inside and outside the organization for growth in life. The spoken English Course at Ideo College Lahore will help housewives interact confidently in their social circles and groom their children.
Objectives of Spoken English Course in Lahore
Acquire basic language skills (listening, speaking, reading, and writing)
Developing intellectual, personal, and professional abilities.
Acquire the linguistic competence necessarily required in various life situations.
To Improve fluency and gain confidence.
Intelligible pronunciation, Learning comprehension skills, building Vocabulary Command of English grammar Paraphrasing, and elaboration skills Coherent organization of information at sentence and discourse levels Interactive skills to enhance comprehension.
Verbal and non-verbal communication
Confidence Building
Who Should Join this Course & Why (Spoken English Course in Lahore) 
Business Owner – Effective communication with employees and clients
Students – To speak English with confidence
Professionals – To have growth in your career.
House-Wifes – Step up, communicate confidently, and groom children better
Marketing & Sales Professionals – English will increase your global reach

Best Spoken English Course in Lahore, Pakistan
Course Outline Spoken English Course
Introduction of English

History of English

Importance of English

Why do we need to learn English

Vowels

Vocabulary

Parts of speech
Building vocabulary
Basics of vocabulary

Be aware of words

Reading on a regular basis

Use of dictionary

Common vocabulary mistakes

Read the entire entry for the word you look

Study and review regularly
Grammar Improvement
Possessive case or contractions

Use of comma

Memorize homophones

Definitive Articles

In-definitive Articles

Use of 5 W's and 1 H

Semicolon and period

Nouns

Vocabulary Building techniques

Spell Checking and proofreading techniques
Sentence creation
How to write sentences

Simple sentences

Compound sentences

Complex sentences compound-complex sentences

A dependent and independent clause

Conjunction

Subordinators
Eight Parts of Speech
Noun

Pronoun

Verb

Adjective

Adverb

Preposition

Conjunction

Interjection
Pronunciation and Fluency
Learn the phonetic alphabet.

learning the word stress of a new word

Work out on sounds that cause the most problems in English

Listening and understanding English as often as possible

Practicing the sounds that are difficult.

Understanding of intonation and sentence stress.

Learn to recognize spelling patterns.
Dialogue, debate, and group discussion
How to write a dialogue

Inner dialogue

Outer dialogue

Consistency with character voices

Content of dialogue

How to write a script

Debating skills

Presenting both the affirmative and negative sides of the debate

Time management is debating

Body language

Tone of voice

Selection of words in group discussion.

Joining the discussion techniques

Effective answering

Ask open-ended questions.

Control your own biases.
Speeches and Presentation
Understanding Your Main Ideas of Speech.
Writing speech
Use of Concrete Words and Examples
Getting Your Facts Together
Simplify your speeches
Learning to connect with your audience while presenting
Understand audience needs while presenting
Understanding to deliver the core message
How to interact with your audience
Understanding the 10,20,30 rules of the slide show
Working on the confidence level
Telephonic Communications
What's Missing in Telephone Communication?
Verbal Communication Techniques
Being Yourself and Sounding Your Best
Who are Your Customers?
Telephone Etiquette
Define the Customer and Client
Asking the Right Questions
Open Questions vs. Closed Questions
Benefits of Telemarketing
Effective Messages
Cold and Warm Calls
Sample Script
Using Cheat Sheets
Closing the Sale
Tips and Tricks
Caller Behavior
Confidence Building
Performing Public speaking activities
Working on Presentations
Speeches practice
Developing Visualization of Yourself
Performing activities to overcome fear
Affirming yourself
Interview Skills  
How to introduce yourself
Defining reasons why you want the job
Learning the interviewer's concerns and reservation
Prepare for common interview questions.
Learning how to score a success in the first five minutes.
Understanding how to get on the same side as the interviewer.
Getting students ready to handle illegal and inappropriate questions.
 Negotiation skills
Effective verbal communication
Enhancing Listening
Reducing misunderstandings is a key part of effective negotiation
Rapport Building
Problem-Solving
Decision Making
Assertiveness
Dealing with Difficult Situations
Key Selling Point
Activity-based learning
Building Vocabulary & Grammar
Dialogue, debate, and group discussion
Speeches and Presentation
Pronunciation and fluency
CSR and TSR training
Confidence building
How to Win an Interview
Public Speaking skills
Negotiation skills
Course Outline Freelancing Course
Introduction to Freelancing

Difference between job and freelancing

Benefits of Freelancing

Lifestyle of a Freelancer

Challenges of Freelancing

Future of freelancing
How to start freelancing
How to Identify Your Master Skill

10 tips for picking your area of work

How to find the most trending freelancing projects or services

How to find a platform to start

Why start freelancing with fiverr.com

Why start freelancing with upwork.com

Why start freelancing with 99design.com

Why start freelancing with freelancer.com

What are the payment methods available in Pakistan
Using Fiverr as a freelancing platform
Introduction to Fiverr

How Fiverr works for freelancers (sellers)

How Fiverr works for clients (buyers)

Types of skills that are most demanded

How to find your niche for Fiverr?

The Advantages & Disadvantages of Fiverr
Profile creation and management
How to make an outstanding profile on Fiverr

How to write a bio

How to do research on competition

Which skill do you need to add to on profile

Adding your education

Adding your experience and projects in a professional way

Connecting Fiver to other social media platforms for more reach

How to set up a payment method

What are the options available for payment in Pakistan

How to get more views on your gigs

Using a mobile application to maintain your response rate
Creating your winning gig
Why people should buy it

Planning for value to the client

Create a gig on Fiverr

How to write a title that attracts an audience

How to design a thumbnail for Fiverr (Canva)

Writing description and details of your gig

How to add value-added services
Getting clients (a lot of them)
How to get reviews of your clients

How to Get Promoted to a Level 1 Seller on Fiverr

Fiverr Rank System

Fiverr Platform Rules

Payment system

How to maintain your rating

How to communicate in a professional manner on Fiverr
Final tips 
How to manage time

How to keep a balance between freelancing work and normal life

Understanding the tax models for freelancers
Address
Office # 01, 3rd Floor Arfa Software Technology Park, Lahore
Faisal Town Branch: Building 291 Block C Faisal Town lahore
Phone
Call
03008642269
03035555130
Whatsapp
923035555138