Python Course in Lahore, Pakistan
Discover the power of Python programming and open up a world of endless possibilities! Enroll in our Python course in Lahore and unleash your coding potential. From beginner-friendly fundamentals to advanced concepts, our expert instructors will guide you through hands-on projects and real-world applications.
Saturday and Sunday
6:00 pm to 08:00 pm
Duration: 6 months
Rs: 15,000/person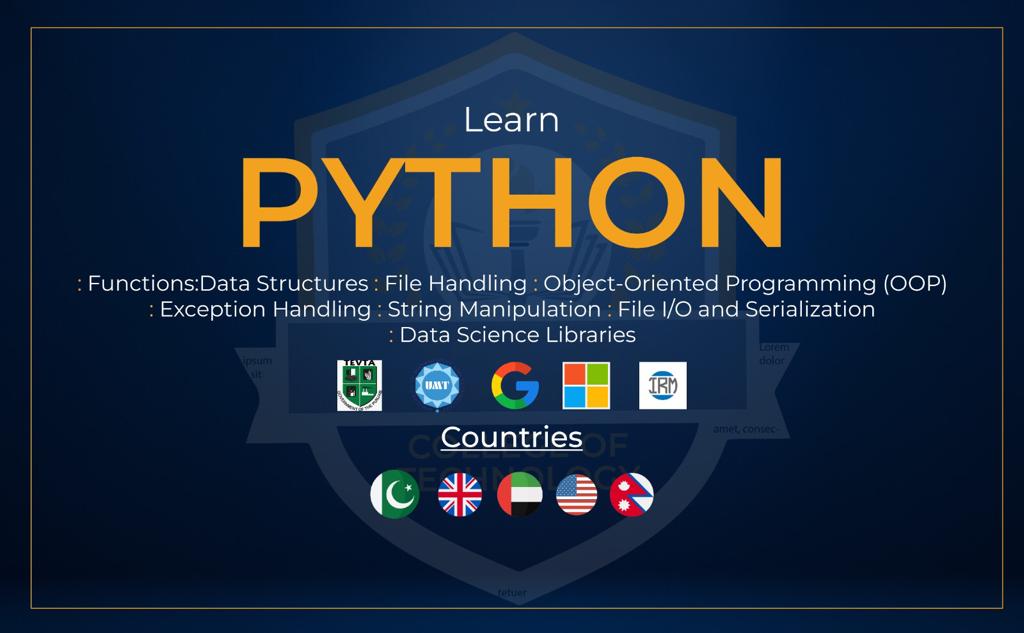 What's included in Best Python Course in Lahore, Pakistan | IDEO College
Ideo College is a training platform that will give you professional competence. Python is a popular programming language these days, hence Ideo College offers the best Full-stack Python Development training in Lahore, Pakistan. Python is simple to learn, strong, and versatile, making it an excellent choice for both beginners and specialists. Python is a wonderful introductory programming language because of its readability. Python is a multi-purpose programming language.
In contrast to HTML, CSS, and JS, it can be used for various forms of programming and software development in addition to web development. If you're just starting out, you could start with Python programming. After understanding its scope, the Python programming language is more user-friendly than any other language. Programming languages have their own ecosystems, cultures, and philosophies built around them.
What is the purpose of Python?
Python is frequently used to create and deploy web applications and APIs. Python can also analyze and visualize data, as well as test software written in languages other than Python.
Full Stack Python Course goal
In this course, students develop and write algorithms as well as applications that can communicate across a computer network. The goal is to use Problem-Solving skills and distributed object technology to create our own objects for real-world Internet Applications that can be accessed transparently across the network. The course will necessitate extensive programming work. Our goal is to provide fundamental principles that will enable students to:
Develop Professional Industrial Algorithm Design Skills
Create and build an architecture for web-based applications.
Problem-Solving Capabilities.
Understand how to use computer language to solve their problem
Recognize How to Use the Digital Method to Solve Their Problem
Real-Time Application Understanding
Why Ideo College?
The goal of Ideo College is to educate people in the field of information technology. It is the future of the world, and if you want to advance in it, you must learn new technology. Ideo College ensures that more and more people can profit from the classes by offering them online.
Enrol if you believe you will profit from it. The full course outline for the Full Stack Python Development short course is available on the website. We guarantee that it will be a worthwhile learning experience that will be beneficial to your future. It can help anyone who is interested in Python development.
Best Python Course in Lahore, Pakistan
Software Problem
What is the Problem?

What is Software?

Types of Software.

How to Brainstorming regarding their problem?

 How to Divide the Problem by using Professional Techniques?

How does Programming Language Help us to solve complex Problems?

Introduction To Computer Problem-Solving Technique

How does Computer Solve your Problems?
Problem-Solving Method
Introduction to Problem-Solving Skills

Problem Solving Method

Preliminary Investigation

Analysis

Algorithm Design

Software Coding

Software Testing

Software Implementation

Software Maintenance
Design & Algorithm
Represent the Algorithm in Paper and Computer Tools

Design the Software Algorithm


What is IDE?

How to Write Instructions on Computer Machine?

How to Design your own software
Coding
Operation and Expressions

Increment/Decrement

Programming Comments

Sample Programs

Assignment Project

Class Activities
Decision Statement
Why do we use Decision Statements?

When we need these types of Statements

If Statement

If else Statement

If-else if Statement

Class Programming Activities

Assignment Project
Repeat Statements
Why do we use Repetitions Statements?

When we need these types of Statements

Loop Statements

Types of Loops

While loop

For Loop

Class activity

Assignment Project
List
Python Lists

Accessing Values in Lists

Update Lists

Delete Lists

Basic List of Operations

List Functions

Assignment Project
Introduction to Semantic Tags
(HTML).
Blocks in HTML.

Frames in HTML.
Cascading Style Sheets
Tuples
Python Tuples

Accessing Values in Tuples

Update Tuples

Delete Tuples

Basic Tuples Operations

Tuples Functions

Assignment Project
Dictionary
Python Dictionary

Accessing Values in the Dictionary

Update Dictionary

Delete Dictionary

Basic Dictionary Operations

Dictionary Functions

Assignment Project
Modules
Python Modules

Import Statements

Import from Statements

Assignment Project
Functions
What are Functions?

What is the built-in and user defined Function?

Function Declaration

 Function Initialization

 Function Calling

 Pass by Value and Reference

Function Reusability

Function Recursions
String
What is String?

How to use the String in the program?

String Algorithm

String Concatenation

String Operations

Class Activity

Assignment Project
Object-Oriented
Programming In Python:
Introduction to OOP
What are Classes
Object and instance
Class Attributes
Instance Attribute
OOP Principles Model
Constructor and Its types
Inheritance and its types
ython web Technologies (Second Module)
1. HTML
Basic principles involved in developing a website.
Why create a website, Introduction to HTML Section &
Home page Layout Selection.
What are HTML & HTML Tags.
Working with HTML Elements & Tags.
Working with Text, Lists, Tables, Hyperlinks, Images, and Marquee.
Working with forms & Controls.
What is multimedia?
Working with Audio on Web.
Working with Video on the web.
Introduction to Semantic Tags
(HTML).
Blocks in HTML.
Frames in HTML.
Cascading Style Sheets:
Introduction To CSS 3 Section.
What is CSS?, Inn Line CSS, External CSS, and how to use it.
Working with the Classes & IDs.
Working with Divs.
Working with Colors, Floating, Positioning, Margins Padding,
Other CSS Properties & CSS Styling (Background, Text Format,
Controlling Fonts).
Working with Lists and tables By Using Class IDs.
Formatting Using Style Sheets.
Structure of Multiple Navigation bars.
Working with Animations.
JavaScript:
What is Javascript?
Different Techniques to apply javascript.
Calculation & Validations in Javascript.
Working with DOM(Document Object Model).
Working with Objects in Javascript.
JQuery:
What is Jquery?, How to control HTML With Jquery.
Working with internal Jquery and external JQuery.
Accessing HTML Elements With Jquery.
Responding to different events with HTML Tags.
Changing Website Contents.
Manipulating Styles with Jquery.
Bootstrap:
What is Bootstrap?
Methods To apply Bootstrap.
What is a Grid System?
Working with Bootstrap Classes.
How To Make Web Site Fully Responsive Using Bootstrap.
Python Ecommerece app Designs:
Python Databases:
Introduction To MYSQL/SQLite
MYSQL on Windows &Linux & SQLite.
Using SQLite.
Implementing SQL Queries Using SQLite
Implementing SQL Queries Using SQLite
Querying Multiple Tables, Using Joins, Union & Sub Query.
Using Basic Functions In SQLite.
Controlling And Managing the MYSQL Database.
Python web Framework & Frontend Framework
Django Basics
Django Environment
Django creating a project
Django App Architecture
Django App Life Cycle
Django URL settings
Django form Template
Django Admin Template
Django Model
Django View
Django Template
Django Forms
Django Urls
Django Database environment
Django Migrations
Django Query Builder
Django ORM
Django Sending Emails
Django Rest APIs
Django sessions
Django cookies
Django Media Uploading
React Framework With Python
Introduction to Javascript
Javascript Elements
Core Function of Javascript
React Js Library:
Introduction to Reactjs Library
Introduction to Reactjs js
Rendering Elements
Components and props
State and lifecycle
Handling events
Conditional rendering
List and keys
Forms
Lifting state up
Hooks in React
Connecting APIs with Python
E-commerce Web In React js
Python Backend:
Python Programming Development
Introduction To Computer
Programming Language.
Programming Flow Controls.
Sequence Programming
Introduction to the Core Python language
Variables
Data types
String
Numbers
Decision Statements
Tuples
Loop
Set
Lists
Set
functions
Python Role in Web Development
Python Django Web Application Architecture
Python Django Model Structure
Python Django View Structure
Python Django Template Structure
Python Django With SQLite Database
Data Insert operation with Database
Data Retrieve operation with Database
Data Update operation with Database
Data Delete operation with Database
Admin Dashboard
Python Django API's
Python Django E-Commerce Api's
Complete E-commerce APIs
Recommendation Libraries:
Product Recommendation System
Ads Recommendation System
Customer Prediction System in Departmental Stores
Music Factory
Address
Office # 01, 3rd Floor Arfa Software Technology Park, Lahore
Faisal Town Branch: Building 291 Block C Faisal Town lahore
Phone
Call
03008642269
03035555130
Whatsapp
923035555138