Professional Diploma in Graphic Design in Lahore, Pakistan
Professional Graphic Designing Diploma will emphasize teaching the finer points of graphic design, fostering your creativity to improve your photography skills, and imparting a thorough knowledge of web design.
Saturday and Sunday
6:00 pm to 08:00 pm
Duration: 1 year
Rs: 90,000/person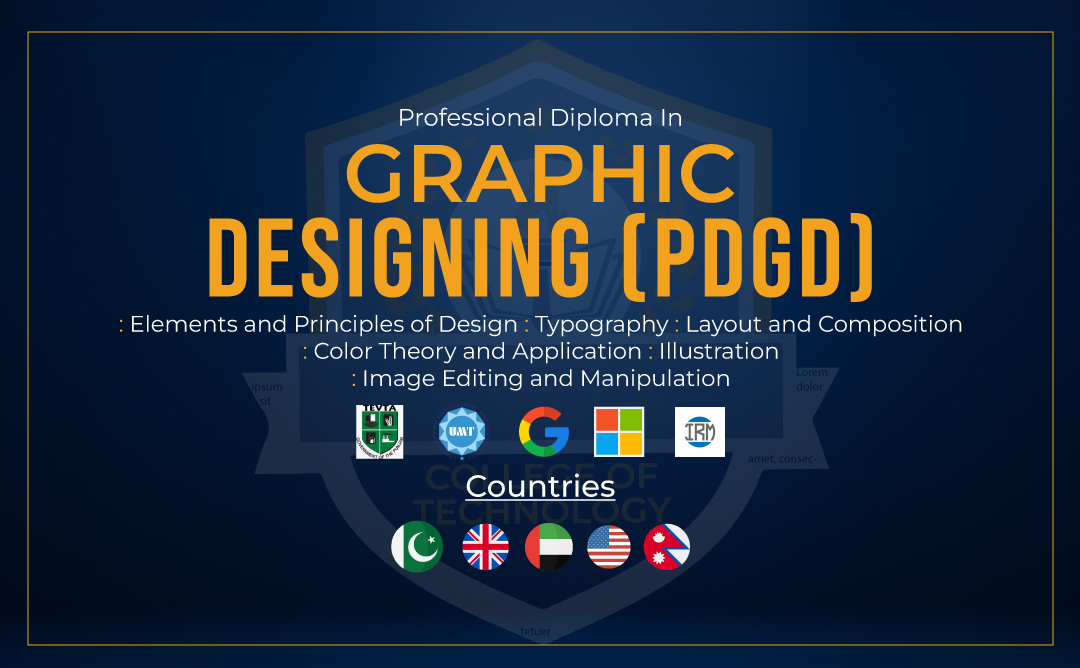 Best graphic design diploma in Lahore, Pakistan | IDEO College
WHAT YOU'LL LEARN IN PROFESSIONAL DIPLOMA IN GRAPHIC DESIGNING
You will be able to use Adobe

Illustrator to a basic level

You will be able to create a simple vector character

You will be able to create and manipulate basic shapes

You will be able to use the Pen

Tool to draw new custom shapes

You will be able to apply differ

ent colors

You will be able to create three different base character template
CONTENT & OVERVIEW
This is a great way for beginners to introduce themselves to Adobe Illustrator. Starting with a basic overview of the program, the course will help familiarise you with the tools you will need. Each step will be broken down to make understanding the process even easier, starting with creating a simple vector shape to creating your different character designs.
Follow along as we take simple vector shapes and step by step create three different character designs that can be used in your own animation or video game projects.
WHO THIS COURSE IS FOR
Graphic Designers

Game Artists

Illustrators

Digital Artists
Professional Graphic Designing Diploma in Lahore Pakistan
ADOBE ILLUSTRATOR
1: GETTING TO KNOW THE WORK AREA
Introducing Adobe Illustrator

Getting to know the toolbar

Finding more tools

Moving and docking panels

Switching workspaces

Using panel and context menus

Changing the view of the artwork

Panning in a document

Viewing artwork

Panning with the Navigator panel Images


Opening an Illustrator file Exploring the workspace

Working with the Properties panel Working with panels

Saving a workspace

Using view commands

Using the Zoom tool

2: TECHNIQUES FOR SELECTING ARTWORK
Starting the lesson

Using the Selection tool Selecting and editing with the Direct Selection tool

Selecting objects

Selecting a marquee

Hiding and locking objects

Selecting similar objects

Aligning objects to each other

Aligning to a key object

Aligning anchor points

Aligning to the artboard

Editing a group in Isolation mode

Arranging objects Selecting objects behind

Unlocking objects you've locked

Selecting in Outline mode

Aligning objects

Distributing objects

Working with groups Grouping items

Creating a nested group

Exploring object arrangement
3. USING SHAPES TO CREATE ARTWORK FOR A POSTCARD
Starting the lesson

Creating a new document

Editing rectangles

Creating and editing ellipses

Creating and editing circles

Creating a polygon Editing the

polygon

Editing the star Drawing lines

Working with drawing modes

Placing artwork

Working with Draw Behind mode

Finishing up

Working with basic shapes

Creating rectangles

Rounding corners Rounding

individual corners

Changing stroke width and

alignment

Creating a star

Using Image Trace to convert raster images into editable vector art

Cleaning up traced artwork

Using Draw Inside mode

Editing content drawn inside
4: EDITING AND COMBINING SHAPES AND PATHS
Starting the lesson

Using the Eraser tool

Editing paths and shapes

Cutting with the Scissors tool

Cutting in a straight line with the

Knife tool Outlining strokes

Creating a compound path

Combining shapes

Assemble the second dinosaur

Combining objects using

Pathfinder effects

Understanding shape modes

Joining paths Cutting with the

Knife tool

Erasing in a straight line

Assemble the first dinosaur

Start by creating shapes

Working with the Shape Builder

tool

Using the Width tool

Assemble the last dinosaur
5: TRANSFORMING ARTWORK
Starting the lesson working with artboards Adding artboards to a document

Editing artboards

Setting options for artboards Reordering artboards

Editing the ruler's origin

Transforming content Working with the bounding box Positioning artwork using the properties panel

Copying artboards between

documents Aligning and

arranging artboards

Working with rulers and guides

Creating guides

Scaling objects Reflecting objects

Rotating objects

Transforming with the Free

Transform tool

Shearing objects Positioning the

bicyclist
6: USING THE BASIC DRAWING TOOLS
Starting the lesson

Drawing a river path Editing a path with the Curvature tool

Creating with the Curvature tool Drawing paths with the Curvature tool

Creating corners with the Curvature tool

Drawing paths with the Pencil tool Drawing straight lines with the Pencil tool

Creating dashed lines

Drawing with the Pencil tool

Joining with the Join tool Adding arrowheads to paths.
7. Drawing with pen tool
Starting the lesson understanding

curved paths An introduction to

drawing with the Pen tool

Getting started with the Pen tool

Starting with curved paths

Drawing a curve with the Pen tool

Drawing a series of curves with

the Pen tool

Drawing the swan Editing paths

and points

Selecting and editing paths

Drawing straight lines with the pen tool.

Converting smooth points to corner points

Combining curves and straight lines

Creating artwork with the Pen tool

Deleting and adding anchor points

Converting between smooth points and corner points Working with the Anchor Point tool
9: ADDING TYPE TO A PROJECT
Starting the lesson Add type

Converting between area type and point type Importing a plain-text file

Changing font family and font style Activating Adobe Fonts

Changing font size

Adding text at a point Adding

area type

Threading text Formatting type

Applying fonts to text in Illustrator

Fixing missing fonts and Images

Changing text color Changing

additional character formatting

Changing paragraph formatting

Using glyph snapping Resizing

and reshaping type objects

Sampling text formatting

Creating and applying text styles

Editing a paragraph style Creating

and applying a character style

Reshaping text with a preset

envelope warp Editing the envelop wrap

Working with glyphs Images

Vertically aligning area type

Creating columns of text Reshaping type objects

Creating and applying a paragraph style Practicing paragraph styles

Editing a character style

Wrapping text

Working with type on a path Creating text outlines
10. Organizing Artboards with layers
Starting the lesson

Creating layers and sublayers

Creating new layers

Finding content in the Layers

panel Moving content between

layers

Locking and hiding layers

Duplicating layer content

Understanding layers

Creating a sublayer

Editing layers and objects

Viewing layer content differently

Reordering layers and content

Pasting layers Applying appearance

attributes to a layer

Creating a clipping mask
11: GRADIENTS, BLENDS, AND PATTERNS
Starting the lesson

Editing a gradient Saving a

gradient as a swatch

Editing a gradient on a stroke Applying a radial gradient to artwork Editing the colors in the radial gradient

Working with gradients

Applying a linear gradient to a fill

Adjusting a linear gradient fill Applying a linear gradient to a stroke
12: USING BRUSHES TO CREATE AN AD
 Starting the lesson

Using Calligraphic Brushes Applying a Calligraphic brush to artwork

Removing a brush stroke Using Art brushes

Using Pattern brushes Creating a Pattern brush

Working with brushes

Editing a brush Drawing with the Paintbrush tool Editing paths with the Paintbrush tool

Editing an Art brush

Painting with a Bristle brush Grouping Bristle brush paths

Editing with the Eraser tool
13: EXPLORING CREATIVE USES OF EFFECTS AND GRAPHIC STYLES
Starting the lesson starting the lesson

Adding another fill to content Adding multiple strokes & fills to text

Editing an effect

Styling text with a Warp effect Temporarily disabling effects to make edits

Applying an existing graphic style Creating and applying a graphic style

Scaling strokes and effects

Using the Appearance panel Editing appearance attributes

Reordering appearance attributes

Using live effects

Applying an effect

Applying other effects Applying a Photoshop effect

Working with 3D effects Images Using graphic styles

Updating a graphic style Applying a graphic style to a layer
14: CREATING ARTWORK FOR A T-SHIRT
Starting the lesson

Editing a symbol Working with dynamic symbols

Replacing symbols Working with Creative Cloud libraries

Using library assets Updating a library asset

Working with symbols Using default Illustrator symbol libraries

Creating a symbol Breaking a link to a symbol
15: PLACING AND WORKING WITH IMAGES
Starting the lesson

Placing image files Placing an image

Cropping an image Placing a Photoshop document

Combining artwork

Transforming a placed image

Placing multiple images

Masking images

Applying a simple mask to an image Editing a clipping path (mask)

Finishing the masked text Creating an opacity mask

Replacing an image

Masking with a shape Masking an object with text

Editing an opacity mask

Working with image links

Finding link information Embedding and unembedding images
16: SHARING PROJECTS
Starting the lesson

Creating a PDF Creating pixel-perfect drawings

Exporting artboards & assetsExporting artboards

Exporting assets

Packaging a file

Previewing artwork in Pixel Preview

Aligning new artwork to the pixel grid

Aligning existing artwork to the pixel grid
ADOBE PHOTOSHOP
1: GETTING TO KNOW THE WORK AREA
Using the tools

Working with tools and tool properties

Sampling a color

Undoing actions in Photoshop
2: BASIC PHOTO CORRECTIONS
Strategy for retouching

Opening a file with Adobe Bridge

Using the Spot Healing Brush tool

Applying a content-aware patch

Repairing areas with the Clone Stamp tool

Resolution and image size

Straightening and cropping the image in Photoshop Adjusting the color and tone

Sharpening the image
3: WORKING WITH SELECTIONS
About selecting and selection tools

Moving a selected area Manipulating selections

Rotating a selection

Selecting from a center point

Resizing and copying a selection

Getting started Using the Quick Selection tool

Using the Magic Wand tool

Selecting with the lasso tools

Selecting with the Magnetic Lasso tool

Cropping an image
4: LAYER BASICS
About layer

Using the Layers panel

Rearranging layers

Applying a layer style

Flattening and saving files

Getting started

Applying a gradient to a layer

Adding an adjustment layer

Updating layer effects Adding a border
5: QUICK FIXES
Getting started

Adjusting facial features with Liquify

Creating a panorama Filling empty areas when cropping

Adjusting perspective in an image

Improving a snapshot

Blurring a background

Correcting image distortion Extending depth of field

Moving objects with the Content-Aware Move tool.
6: MASKS AND CHANNELS
Working with masks and channels

Creating a quick mask

Using an alpha channel to create a shadow.

Getting Started Using Select and Mask

Manipulating an image with Puppet Warp
7: TYPOGRAPHIC DESIGN
About type

Creating a clipping mask from type Creating type on a path

Adding a rounded rectangle Adding vertical text

Getting started

Warping point type Designing paragraphs of type
8. VECTOR DRAWING TECHNIQUES
About bitmap images and vector graphics

Drawing with the Pen tool

Importing a Smart Object

Adding color and depth to a shape using layer styles

About paths and the Pen tool Getting started

Working with defined custom shapes
DIGITAL PAINTING
OVERVIEW OF DIGITAL PAINTING
What is it?

What types of jobs are available to digital artists?

What software is used to create digital art?
PHOTOSHOP BASICS
The Photoshop Workspace

Pen Tool Basics Capture Brush

Tip Shapes

Creating, Saving, and Loading Selections

Light and Shadow

Advanced Painting Techniques

Brush Basics

Adding and changing Brush Dynamics Painting and Blending Techniques

Combining and Modifying

Selections
SKETCHING
1 . INTRODUCTION
Notable draftsmen Definitions of drawing, sketching, and drafting and their differences

History of drawing and painting
2. BASICS OF DRAWING
3. DIFFERENT TYPES OF DRAWING
Abstract

Modern

Analytic

Figure

Geometric

Emotive

Sketch
2. DIFFERENT STYLES OF DRAWING
Contour

Grisaille

Scribble

Doodle
PHOTOGRAPHY
YOU AND YOUR EQUIPMENT
Introduction to Photography

Introduction to camera settings

Focusing – Getting your pictures pin sharp!

ISO

Apertures and Depth of Field

Camera Kits and Recommended Equipment

Composition Lenses, Focal Lengths, Crop and Full Frame sensors

Resolution

Balancing exposures

Balancing exposures with Flash

Post-production and Raw Files
FREELANCING
Learn about Freelance Pricing Strategies

Become more productive in what you do

How to craft a professional Project Proposal

Freelancing Websites – Fiverr

Upwork etc

Build confidence in your word

Learn how to Deal with different types of clients

Use of Online project and design tools

How to write effective job applications

Create Account, Profile, Gig
Address
Office # 01, 3rd Floor Arfa Software Technology Park, Lahore
Faisal Town Branch: Building 291 Block C Faisal Town lahore
Phone
Call
03008642269
03035555130
Whatsapp
923035555138