Best SEO Course in Lahore, Pakistan
Learn how to rank your website at the top of search engines like Google. Search Engine Optimization (SEO) is more important than ever if you're interested in driving targeted traffic to your website then come to learn the Best SEO Training Course In Lahore.
Saturday and Sunday
6:00 pm to 08:00 pm
Duration: 2 months
Rs: 15000/person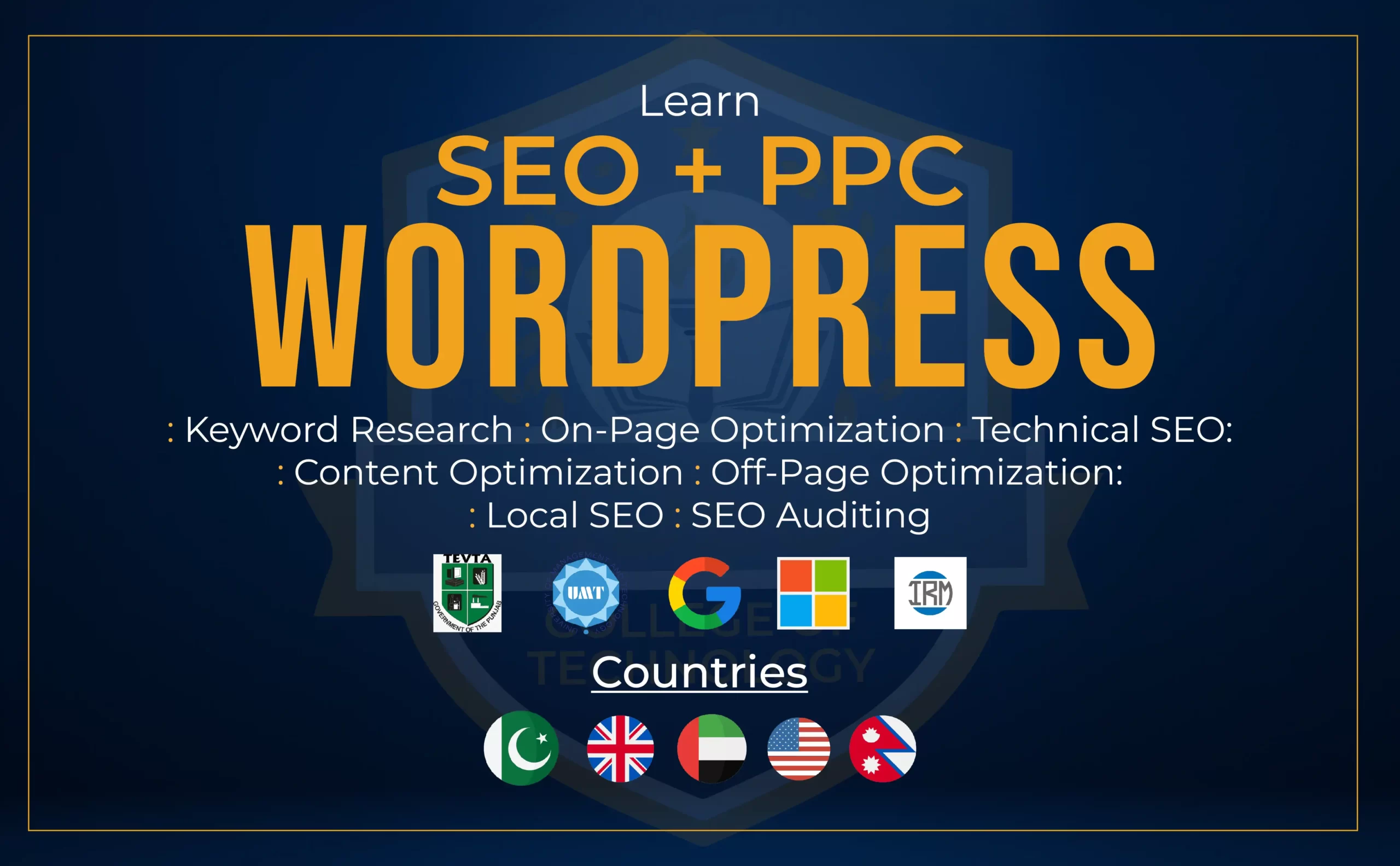 What's included in Best SEO Training Course in Lahore, Pakistan | IDEO College
Search engines like Google, MSN, Bing, etc. have billions of searches, and if your website is not ranked then you will lose a lot of free traffic every second. Search Engine Optimization (SEO) is a process in which you optimize your website with ON-Page Optimization and use some techniques of OFF-Page Optimization to rank your website on a keyword. Join  Ideo College IT Training Institute in Pakistan.
Search Engine Optimization is more complex than ever in 2022. It takes more than just building links, creating any new content, and adding a few keywords to improve your organic search rankings and increase the visibility of your business or brand. You need to keep track of and understand new emerging trends.

Learning Outcomes of Search Engine Optimization Course in Lahore 
Search Engine Optimization is not only about search engines, but Good Search Engine Optimization starts to improve the user experience and usability of a website. SEO is good for the Social Media Marketing Promotion of your website and also increases the website's trust. If you provide unique content that deserves to rank for the right keywords, your traffic can snowball (google dancing) over time, whereas advertising needs continuous funding to send traffic to your site.
Search engines are getting smarter, but they still need our help. Optimizing your site will help deliver better information to search engines so that your content can be properly indexed and displayed within search results.
To sum up, if you follow Search Engine Optimization Factors and Strategies, you can increase your website traffic and revenue with On-Page Optimization and Off-Page Optimization.
If you are not familiar with SEO Strategies, don't worry, Ideo College IT Training Institute in Pakistan is the best place to learn professional skills. Lahore Arfa IT Training Institute provides SEO Training courses in Lahore & complete information about SEO strategies and techniques with Web Development through WordPress.
In 2020, there are 6.9 billion searches on Google every day, by using SEO and ranking on Google you can reach billions of active users. Just imagine your business reaching 1 billion active users generating business through Google can be quite easy. Learn SEO Training Course In Islamabad and start generating free traffic
If you think that you have become the Best SEO expert in Pakistan and achieved your goals about your planning for an SEO Expert then this platform is your best preference. Ideo College is the Best Training Institute for SEO in Pakistan because this course aims to improve your skills to a higher extent, for this learn MOZ, and Google algorithm updates. Most website users have a limited understanding of SEO, so you often only need to get the basics right to succeed.
5 Fundamental Steps to SEO Success | (Ideo College)
Figure out what your customers are searching for
Optimize your web pages for your target keyword
Understand both search engines and humans
Get other websites to link to your site
Start measuring your SEO success
The objective of the SEO Training Course In Lahore is to:
Learn how to generate leads and sales from search engine optimization
Understanding the basics of Search Engine Advertising
Learning marketing techniques used by big brands.
Determining keywords and targeting your audience
Working on live SEO projects
Hands-on experience with WordPress
Installing, updating, managing, creating users, and using WordPress
Determining white hat, black hat, and gray hat SEO techniques
Working on Pay Per Click Ads (Adwords)
AFTER THIS COURSE, SKILLS OUTCOMES (Ideo College)

Website Development
Website Design
WordPress Management
Keyword Research
On-page SEO
Off-page SEO
Technical SEO
Link Building
UI & UX
PPC Ads
Web 2.0
Display Ads
Who Should Join the SEO Training Course In Lahore (Ideo College)

Business Owner – To increase online sales and profits by 10X
Students – Learn the most demanded skill and start freelancing
Professionals – Upgrade your portfolio and have more opportunities
Influencers, Bloggers, and YouTubers – Reach more fans ever than before
House Wives – Stay home, start freelancing, and earn
Marketing & Sales Professionals – who want to rank in search engines
Website Designer and Developers – to earn more via SEO
Affiliate Marketers – to rank on highly searched keywords and earn more sales
Marketing Companies – to rank on highly searched keywords and earn more sales
Link Builders – hands-on experience of link building
The staff of small, medium, and large companies or law firms
Freelancers – to offer demanding SEO services.
MODULES
WordPress Modules
WordPress Introduction • Get Started With WordPress • Basics Of WordPress, Theme, And Plugin • What Is The Post? • Creating And Administering Posts • How To Use Themes • Plugins & Widgets • Inserting Hyperlinks • Media Library • Creating Users • Configuring Website settings • Themes And Plugins • Adding A Slideshow • Adding Social Media Buttons • Handling Footer • Backing Up The Website • How To Work On DIVI • Widgets & Sidebar & Menus
SEO Modules
What Is Search Engine Optimization? • Keywords Research • How To Be Search Engine Friendly • On-Page SEO • UI And UX According To SEO • Technical SEO • Mobile Web Crawling • Link Building • Local SEO • Off-Page Optimization • SEO Site Audit • Web 2.0 And The Power Of Little Things • Display Advertising • Campaign Creation AdWords • Algorithm Updates
Best SEO Training Course in Lahore, Pakistan
Course Outline Search Engine Optimization
WHAT IS SEARCH ENGINE OPTIMIZATION? 
DEFINITION

GLOSSARY

SEARCH ENGINES AND DIRECTORIES

HOW SEARCH ENGINES WORK

CRAWLERS, ROBOTS, SPIDERS

ALGORITHMS

SEARCH ENGINE INDEXING

RANKING

DIRECTORIES

WEBSITE ARCHITECTURE

STATIC PAGES

DYNAMIC PAGES

History (Google, Bing, Yahoo, Ask, Baidu etc.)

Development & Growth of Search Engines in a Cyber

Type of Marketing

Pull Marketing

Purpose of SEO

How Google's Search Engine Works

Basics of SEO

Terminology Cycle of Search Engine (How it Work)

Table of SEO Success Factors

What is ranking on Google?

Advantages of high Ranking KEYWORDS RESEARCH

What are keywords?

Purpose of keywords in Website's marketing

Uses of Keyword Researching Tools (Search Volumes, Competition, Business Priority)

Keyword Planner tool And other 3rd part online tools and

Mapping Keywords to Website Pages

Segregation of High and Low-Priority Keywords

Primary Keywords Secondary Keywords LSI Keywords

Competitive Keywords Also

Create an Excel File of keywords

Uses of formulas to find the best and main (Business matching keywords) Search Engine Optimization HOW TO BE SEARCH ENGINE FRIENDLY

PAGE CODING

MANAGING SPIDERS/ROBOTS

CRAWLABILITY

REWRITING PAGES

SUBDOMAINS

THEME PYRAMIDS

USEFUL LINKS ON-PAGE SEO

What is On-Page SEO?

Two type of SEO = "On-Page" & "Off-Page"

Basics of HTML – Designing How to Use Keywords

Whole keyword report in On-Page SEO?

URL, Meta, Title, Description, H1, and other headings

Algorithm of How to Use Keywords on Website's Page

Which types of Images are used on the page?

ALT in the image crawling and indexing

Difference between Crawling and Indexing

XML & HTML Sitemaps, How to make it? Robots.txt

Purpose of that file!

Algo of Robots file (best practices)

Anchor Text

Fundamental of Anchor Text

Complete Case study of Anchor Text

Activate Windows

Internal Linking

How to prioritize the other web pages?

Analyze with the Tools

Google Search Console & Bing Webmaster UI AND UX ACCORDING TO SEO

How to make friendly web design & architecture?

Thinking of good UI and designing a website (goals & conversion models)

How to show your content and where?

Improving UI/UX for SEO TECHNICAL SEO

URL Architecture

Page Speed Analysis (GTMetrix / Pingdom Tool / Google Page Speed Checker Tool)

How to fix it according to Google's Stander Broken Links

Test and improve page speed Mobile web crawling

Structured data usage & optimization

AMP configuration

Check indexing

Make sure important resources are crawlable

Audit internal links

Review your sitemap LINK BUILDING

What is link building?

Purpose of backlinks?

Types of Backlinks

Do follow links and no follow links 

LINK BUILDING (OFF-PAGE SEO)

Normal "BL (com)

Ranks (singles, measurement, check, and balance)

How to prioritize the Backlinks?

According to Google

Keyword Ranking

Competitor Research LOCAL SEO

SEO Strategies for Localized Businesses
Course Outline WordPress
WordPress Introduction
WordPress Introduction What is WordPress? Why use WordPress? How can WordPress help me? How much does WordPress cost? How/where do I get WordPress?
Get Started with WordPress
Difference between wordpress.com and wordpress.org How to download WordPress Installing WordPress from scratch Creating & Connecting Database Changing your password
Basics of WordPress, Theme, and Plugin
WordPress dashboard basic Understanding Version, Release and Modification Updates How to update WordPress, Theme and Plugin. How to find the latest WordPress release Difference between HTTP and HTTPS
What is the post?
Your first post basics Post Details Working with photos Working with videos Categories & slugs
Creating and Administering Posts
Setting Up Categories and Tags Understanding Title and Content Areas Configuring the Publish Area Setting the Featured Image
Themes
What is the theme? Folder Strategy Finding a great theme Theme directories Paid themes Installing a theme, ways & techniques
Plugins
What are plugins? Folder & File Strategy Finding plugins Plugin directory Plugin search Installing plugins – ways & techniques
Widgets
What is a sidebar? What are sidebar widgets? Choosing and installing sidebar widgets Adding links Adding text and images Header; how to make a beautiful header? Using theme features Using Static images GIF files
Inserting Hyperlinks
Inserting hyperlink to download file Inserting hyperlink to an External Website Inserting Hyperlinks to an Internal Page Inserting an E-mail Address & Removing a Hyperlink
Working with sliders
Working with Theme options Using
plugins Dynamicity & Possibilities
Menus
Menus default options Theme default options Arranging multiple menus
Media Library
Understanding the Default Width and Height Settings Understanding WordPress Image File Creation Understanding the Default Month Year Folder Structure Uploading and Managing Media Files
Users
Add/edit users User roles How to delete users What if a user is mistakenly deleted
Configuring Website Settings
Configuring General Settings Configuring Reading Settings Configuring Permalinks
Themes and Plugins
What is a Plugin? How to download plugin Installing, Updating, and deleting the plugin Choosing a Theme Installing and Configuring a Theme Switching Between Themes Adding Menu, Media, and Content to a Theme Administering, Upgrading and Maintaining Plugins •Example of how to use Plugins Adding a Photo Gallery Creating a Contact Form
Adding a Slideshow
Uploading Images for Slideshow Using the Theme's Built-in Slideshow Feature Installing a Slideshow Plugin Creating a Slideshow Adding the Slideshow to a Page Adding a Slideshow to a Sidebar
Adding Social Media Buttons
Using a Plugin to Add Social Media Buttons Adding Social Media Buttons to a Widget Using the Theme's Option to Add Social Media Button
Footer
How to maintain a Footer? Using widgets Static & gif images BACKING UP THE WEBSITE Installing a Plugin Creating a Backup Locating the Backup Downloading the Backup
How to work on DIVI
How to install Divi Theme? •How to use different components of Divi Theme • Understanding Divi Text Editor
Widgets and Sidebars
What is a Widget? What is Sidebar Adding/Removing Widgets Adding Text, Post, Images, and other types of widgets
Course Outline Freelancing
Introduction to Freelancing

Difference between job and freelancing

Benefits of Freelancing

Lifestyle of a Freelancer

Challenges of Freelancing

Future of freelancing
How to start freelancing
How to identify your Master Skill

10 tips of picking your area of work

How find most trending freelancing projects or services

How to find a platform to start

Why start freelancing with fiverr.com

Why start freelancing with upwork.com

Why start freelancing with 99design.com

Why start freelancing with freelancer.com

What are the payment methods available in Pakistan
Using Fiverr as a freelancing platform
Introduction to Fiverr

How Fiverr works for freelancers (sellers)

How Fiverr works for clients (buyers)

Types of skills that are most demanded

How to find your niche for Fiverr?

The Advantages & Disadvantages of Fiverr
Profile creation and management
How to make an outstanding profile on Fiverr

How to write a bio

How to do research on competition

Which skill do you need to add on profile

Adding your education

Adding your experience and projects in a professional way

Connecting Fiver to other social media platforms for more reach

How to set up a payment method

What are the options available for payment in Pakistan

How to get more views on your gigs

Using a mobile application to maintain your response rate
Creating your winning gig
Why people should buy it

Planning for value to the client

Create a gig on Fiverr

How to write the title that attracts audience

How to design a thumbnail for Fiverr (Canva)

Writing description and details of your gig

How to add value-added services
Getting clients (a lot of them)
How to get reviews of your clients

How to Get Promoted to a Level 1 Seller on Fiverr

Fiverr Rank System

Fiverr Platform Rules

Payment system

How to maintain your rating

How to communicate in a professional manner on fiverr
Final tips 
How to manage time

How to keep a balance between freelancing work and normal life

Understanding the tax models for freelancers
Address
Office # 01, 3rd Floor Arfa Software Technology Park, Lahore
Faisal Town Branch: Building 291 Block C Faisal Town lahore
Phone
Call
03008642269
Whatsapp
923035555138