Best Animation Course in Lahore, Pakistan
The best Animation course in Lahore, Pakistan is designed to provide students with a comprehensive understanding of the principles and techniques involved in creating animated content. Whether you aspire to become a professional 2D and 3D animator or simply have a passion for animation, this course will equip you with the necessary skills to bring characters, objects, and environments to life through both two-dimensional and three-dimensional mediums.
Saturday and Sunday
6:00 pm to 08:00 pm
Duration: 6 months
Rs: 45000/person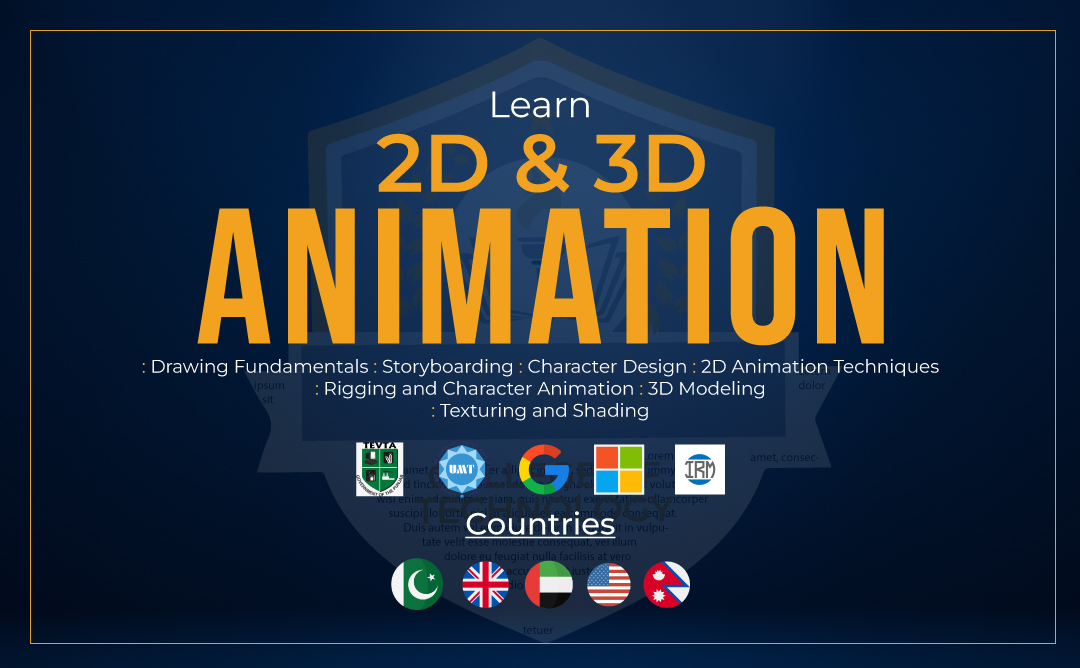 What's included in Best Animation Course in Lahore, Pakistan | Ideo College
Why This Course
2D 3D Animation Course in Lahore Pakistan | Ideo College Animation is the art of creating movement in a two-dimensional

space. This includes characters, creatures, FX, and backgrounds.

Viewing 3D Modules is more interactive, fascinating & satisfying to potential clients. Chances of winning over customers increase as visuals and graphics in a 3D model create a deeper impact on the client's mind.
COURSE DETAILS
Who Should Attend this course?
People who want their careers as a designer and animators should attend this course so they can learn complete skills in professional  Animation Courses in Lahore, Pakistan | Ideo College. This course will teach you the introduction to graphic designing, video editing, 2d animation, 3d modeling, Texturing, 3d animations, and the concept of Game design.
COURSE LEARNING OUTCOMES/BENEFITS AFTER COMPLETING THE PROGRAM YOU CAN BECOME INDEPENDENT GRAPHIC DESIGNER
2D/3D Animator Cartoons making.
3D MODLER & animator-like games.
Marketing advertisement Animations.
Commercial video.
And you can work as a 3D artist for the game studio and online clients.
Best Animation Course in Lahore, Pakistan
INTRODUCTION
This course is designed to build student's Graphic Designing video editing, and 2D/3D animation skills. In just 6 months, you'll learn how to animate like a professional using Adobe, 3ds Max & Maya. Get plenty of hands-on experience, learn 2D animation techniques that save time and frustration, and graduate with a portfolio to impress clients with. 2D design and animations Buildup 3D models, design virtual worlds, and create 3d animations. In these courses, you'll learn about character creation, walk cycles, 3D modeling texturing, and keyframe animation, and build skills in popular applications like Adobe Suit, Auto Desk 3ds Max and Maya. By the end of the course, students will be able to navigate the Adobe Suit & 3D software's interface well enough to create design and Animations, 2D design and animations, Build 3D models, design virtual worlds, and create 3d animations.
OBJECTIVES OF THE PROGRAM
In this beginner-focused specialization, we will train you in the essentials of 2d and 3d game art production as well as concept art for games and current Gen game art workflow. While each of the courses will build your knowledge of the practice of game art, each module is a self-contained unit designed to teach a specific area. At the end of this Specialization, you will have a thorough knowledge of the creation of high-quality game art assets. Through these courses, you will be using Adobe Suit, 3ds Max, and Maya.
THEORY
What is the Graphic Design?

The role of Graphic Design in Game design and 2D animations?

How Storyboarding is related to animation?

Create the Storyboarding in sketches and Adobe Illustrator.
ADOBE ILLUSTRATOR
Introduction the illustrator and creating a new document.

Shapes and masking.

Image trace.

Working with Pathfinder tool.

Design with photo and text.

Designing for 2D animation documents.

Making a new document.

Choosing a workspace & main interface items.

Color Correction, hue, Saturation, Levels, Brightness & Contrast Opacity.

Pen tool/ pencil tool/ brush tool.

Colors shades & gradient.

Illustration & working with shape




builder tool.

Creating art using a raster image.

Layout design & design balancing.

Exporting and saving the project file.

Difference between Raster and vector.

Photo retouching, stamp tool, spot healing tool.

Cropping image And Clipping Mask.

Background removal and background theme.

Pixel & Resolution.

Generate the gif file animations.

Image mode, Transforming, Using the warp command and layer styles.

Introduction to Sony Sound Forge.

Markers & Region.

Resolution for printing & animations.

Export files and project Adobe After Effect or Premier Pro.

Smart object and rasterize layer and export the other Applications.

The Work Space & Recording in Sound Forge.

Looping & Sampling.
ADOBE PREMIERE PRO
Introduction to Video Streaming and Editing.

Video Standards and Video Terminology.

Stages of Video Making.

What is the adjustment layer?

Getting acquainted with the Project.

Window Getting acquainted with the Timeline.

Insert And Overwrite Edit.

Originating a Storyboard, Working with Transitions.

Implementing Effects Exporting.

Export video file format.

About Video Editing.
ADOBE AFTER EFFECTS
INTRODUCTION
Adobe After Effect Introduction.

Creating a Composition and using the Essential Tools.

Navigating the Interface.

Importing Different types of assets & introducing the different layers.

Timeline Workflow and Previewing a Timeline.

Creating Animations with Multiple Properties.

Using Anchor Point & Basic Text Animation.

Blending, Masking & Tracing Camera.

Text Animation Square Object Title Reveal.

Title creations, effects, and animation.

Character animations and talking animations.

Camera animations and make the portfolio.

Timeline & Keyframe Animation.

Opacity & Short Keys Scaling / Animating Scaling.

Rotation and position animation.

Graph & Graph Editor.

Animate Any Object or Text along a Custom path.

Create the video promo.

Audio Editing.

Keyframe and Bezier Keyframe Interpolation.

Walk cycle animations.

Export media in various formats.
AUTODESK 3DS MAX
ESSENTIALS
Design inorganic models using Polygonal modeling

techniques.

Create 3D game environments and props.

Learn basic rigging techniques to prepare the models for

animation.

Overview of 3ds Max & 3ds Max interface.

Cameras, Three-button Mouse & Primitives Modelling.

Texture the models using advanced mapping techniques.

Make realistic 3D Models & textures.

Work through 3D Product lighting and varied rendering.

Navigation techniques and tools 3 DS MAX.

Utilizing Viewports and view settings.

Using Modifier stack and modifiers like Bend, twist, taper, and Noise.

Primitives and modeling.

Converting 2D shapes to 2D models using Extrude and

Bevel.

Applying the Box modeling technique.

Modeling and Product Models.

Adding edge loops and creating realistic solid models.

Compound shapes and using Compound Objects.

Working with texture mapping.

Shades like Blinn, Phong, and Anisotropy.

Basic Lighting in 3dsMax.

Rendering using Scan line renderer.

Intermediate texture mapping options.

2D Textures and using Bitmaps as textures.

Creating a Simple Rig & Using Hierarchy.

Using Textures & Applying  Textures.

Applying multiple materials & UV mapping.

Animating in 3ds Max & Understanding Animation.

Creating Keyframes and in-between & Graph Editor.

Setting up the scene for Product presentation.

Making a Basic room using primitives & Using 2D Shapes.

Lofting techniques and sub-object modeling.

Understanding proper modeling methods.

Using Vertices, Faces, and Edges.

Boolean and Scatter.

Constructing a 3D Model using image planes.

Practical session on creating the Model.

Understanding texturing in 3 ds Max and using Material Editor.

Working with Point lights, direct lights, and Spotlights.

Basic UV unwrapping & UV editor.

Using Photoshop to create textures & 3D textures.

Texturing the Product Model made by each participant.

Linking and Unlinking objects.

Texture mapping and projecting textures on surfaces.

The UV Texture Editor.
Bouncing Ball exercise.

Lighting and rendering.

Camera Setup and animation.

Vray lighting setup and using Vray rendering.

Vray render setup, Vray Materials, Global Illumination

& Image sampling.

Rendering and output.

Presenting the final 3D.

Environment and Animation.
Overview of Maya
Setting up files and Maya projects.

Navigating the Maya workspace.

Selecting objects and using the Move tool.

The Attribute Editor.

Organizing Maya Scenes.

Hiding and showing objects.

Designing Polygonal Models.

Differences between Max and Maya.

Using Soft Select and reflection.

The Combine and Separate commands.

Using Edge Flow for smooth geometry.

Drawing detail with the Connect tool and mirroring

geometry.

Extracting NURBS curves from surfaces.

Creating curves on a surface and projecting curves on surfaces.

Overview of Maya renderers and the basics of materials.

Mental ray materials.

Understanding the Maya interface.

Configuring viewports and customizing the interface.

Using the hotbox and marking menus.

Rotating and scaling objects.

Practicing pivots and understanding the Channel Box.

Maya Scenes.

Working with the Outliner and object groups.

Working with selection masks &  with Polygons.

Selecting polygonal components.

Sculpting with the Sculpt tool.

Working with Meshes & Working with edge loops.

Reorienting geometry using Spin Edge.

Using NURBS primitives & The NURBS curve tools.
Address
Office # 01, 3rd Floor Arfa Software Technology Park, Lahore
Faisal Town Branch: Building 291 Block C Faisal Town lahore
Phone
Call
0300-8642269
0303-5555130
Whatsapp
0303-5555138